Like most people, I accumulated too many gadgets. I've given away Nokia 770 to my sister (I also have Nokia N800), and stored away some other things (like USB DVD recorder, flatbed scanner), and started increasingly switching over to "multifunction" devices.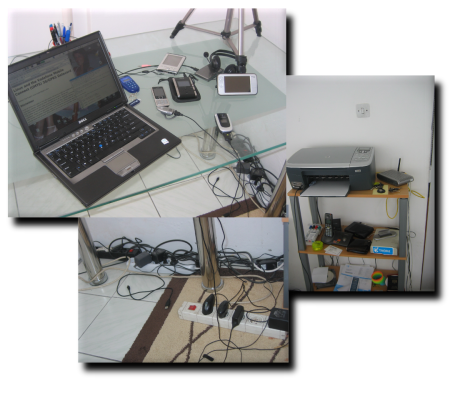 Gadgets clean-up
And what I am left with is still too much (the photo above doesn't include a USB hard drive, speakers and another computer I use for storage and as a media server—and a camera, of course :).
The steps I did so far to help my case are replacing separate printer and scanner with a networkable multifunction device. And replacing a combo of a wireless AP and an ADSL router with a single device (except that it doesn't work too well atm, so I am keeping both).
But, how to get rid of more stuff? I plan to replace the other computer with a more integrated solution (including big hard drives and memory card reader), and I'll probably get rid of MP3 player (both N800 and my phone can be used as ones), and I'll get rid of Toshiba E740 PDA (I am now pretty sure I'll never bother hacking on it).
Any further ideas on how to un-clutter my workspace? ;)
In other news, I lost my cool Linux-powered Motorola A1200 in Birmingham: the day before GUADEC actually started. So, after losing my previous Motorola phone, and after remembering that I lost my parents' Motorola phone all the way back in high school, I am done with Motorolas. :)
[
18:18
] | [
] |
#
|
G
|
|
TB