Richard Stallman had two talks in Belgrade these days: one yesterday on free software in general, and another today concerning copyright versus community.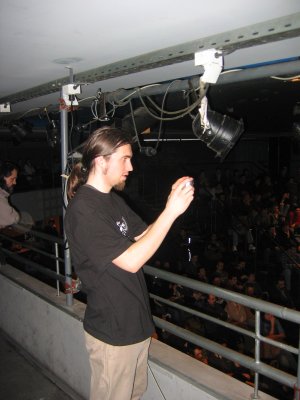 This is the guy that made it happen, Ivan Jelić (FSN), while taking a picture of RMS :)
The first talk was too crowded, but it was quite good and to the point. However, RMS destroyed it a bit with his attitute toward people when answering questions (screaming "I can't hear you" or "I can't understand you" at them, while they were struggling with their English). He's definitely not The Man for the public relations.
However, my "trick" question of when is next Emacs coming out still ended up unresponded, even if he said "we are close". Not that it is stopping me from continuing to use Emacs from CVS with Gtk+ integration. :)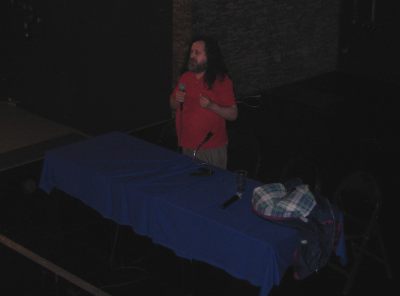 This is the guy that that everyone was there to hear (pardon the image quality, you are welcome to buy me a DSLR ;).
The second session was not as crowded and not as fun, but it still made a lot of sense, and I hope at least some people learned something from it. The funniest thing was the question from someone in the audience: "why do you think community is more important?" The first thing that crossed my mind was: "hey you, go back and sit in your own corner, all by yourself".
For me, it was a great opportunity to see many people I know from the free software community in Serbia, but I am still sad that I missed some others.
Now, I couldn't help it but think that someone a bit friendlier, like our own Jeff "jdub" Waugh would have sent out an even better image of what we are doing!
[
22:18
] | [
] |
#
|
G
|
|
TB