Mark: not using Gnome CVS is a big problem for translation, if I may say. I tried contacting Serbian AbiWord translator earlier, but never really got through.
Not surprisingly, AbiWord looks completely out of place on an otherwise fully Serbian Gnome desktop: it's written using Latin script instead of Cyrillic, it uses completely different menu names (though they're recognizable and often quite similar, they're still different!), and I simply can't get to learn enough about simply getting involved and I lack the time to chase Serbian AbiWord translator for too long.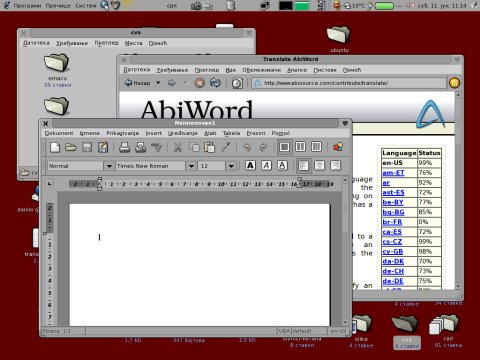 AbiWord doesn't really fit: notice a pattern in other menus?
FWIW, this is not only a problem of AbiWord: Christian recently raised the same issue with Inkscape developers (yeah, they do have good practical reasons not to switch to Gnome CVS, but it always means a step back for translation users and contributors).
Best help you can get from Gnome Translation People (ok, it's officially "Project", not "People" :) is by using Gnome CVS!
Disclaimer: this doesn't mean that I don't appreciate what you're doing for helping AbiWord be as close as possible to what translators otherwise do, like using PO files, creating statistics such as this, etc. It's just that it's never good enough. Of course, feel free to ask me for help regarding those stats generation, I have done quite a bit on that front myself :)
[
09:33
] | [
/prevod
] |
#
|
G
|
|
TB